Regular price
$160.00 USD
Regular price
Sale price
$160.00 USD
Unit price
per
Sale
Sold out
The Turquoise Galaxy Cremation Pendant is a remarkable keepsake that encapsulates the essence of your loved one. Crafted with the utmost care and reverence, this pendant serves as a unique and cherished memorial, blending artistry, sentiment, and remembrance into a single captivating piece.
Within this glass memorial pendant, the ashes of your beloved are transformed into a mesmerizing spectacle, intertwining with molten glass and pure silver fuming. Expertly crafted, the swirling patterns form a magnificent glass galaxy that serves as a gentle reminder of the cherished memories shared with your loved one.
Available in two sizes, original and mini, each pendant is meticulously handcrafted with unwavering attention to detail. This ensures that every piece is truly one-of-a-kind, embodying the unique essence and spirit of your loved one. The careful craftsmanship ensures that your pendant is an exceptional work of art, blending the elements of nature, craftsmanship, and memorialization into a wearable masterpiece.
The Mini version measures approximately in between 1 1/8 of an inch to 1 1/4 of an inch, not including the loop. The Original size measures approximately in between 1 1/2 of an inch to 1 5/8 of an inch, not including the loop.

Each pendant will be annealed in the kiln for strength and durability. 
Right after you place your order, we will send you a free collection kit for the Ashes with instructions.
We will need 1/3 of a tsp of cremains for 1 keepsake.
All our cremation keepsakes arrive to you in a white gift box, perfect for safe keeping.
You will also receive a Certificate of Authenticity with your cremation keepsake.
Have more questions? We have answers, visit FAQ
Please do not hesitate to ask any questions you may have, contact us
Share
View full details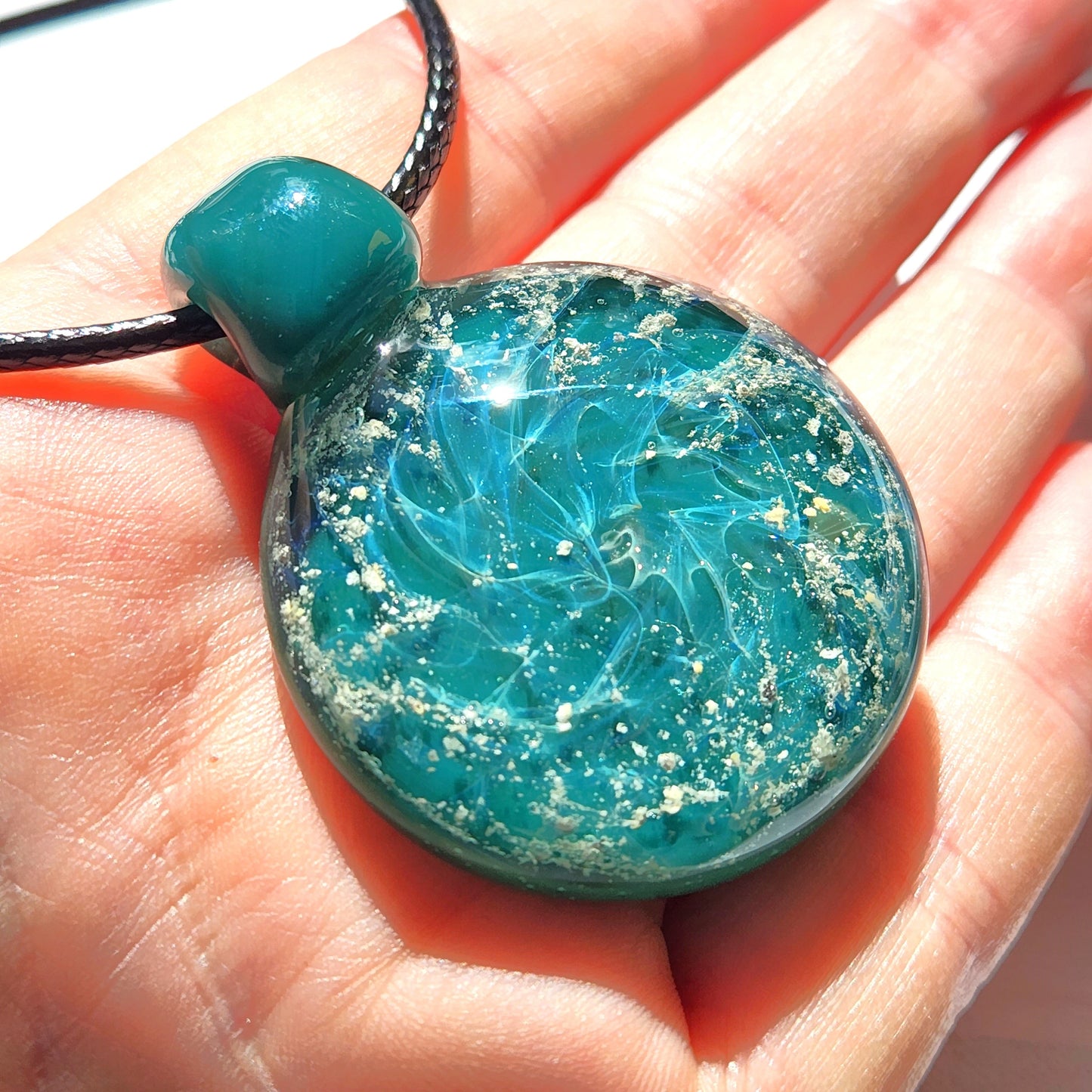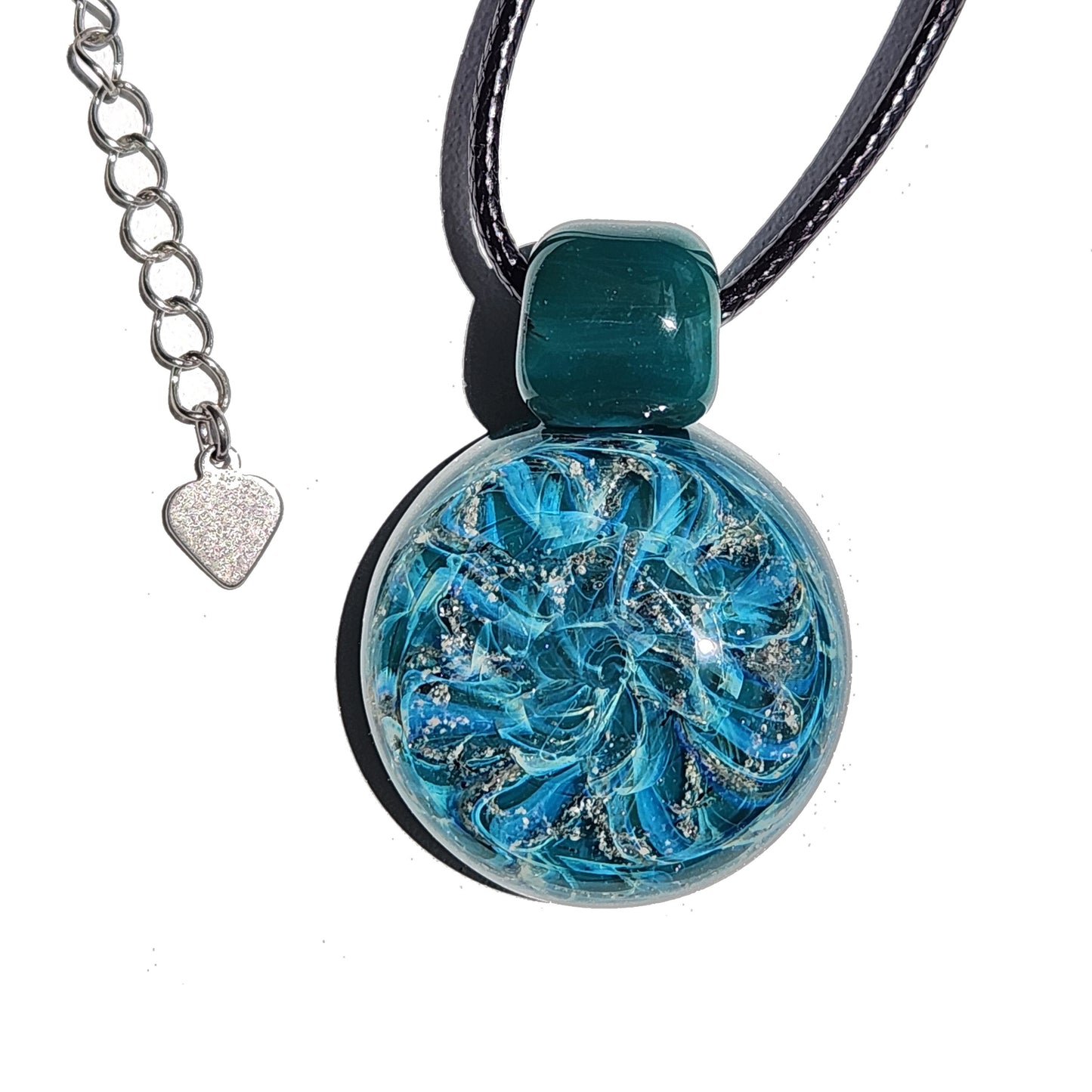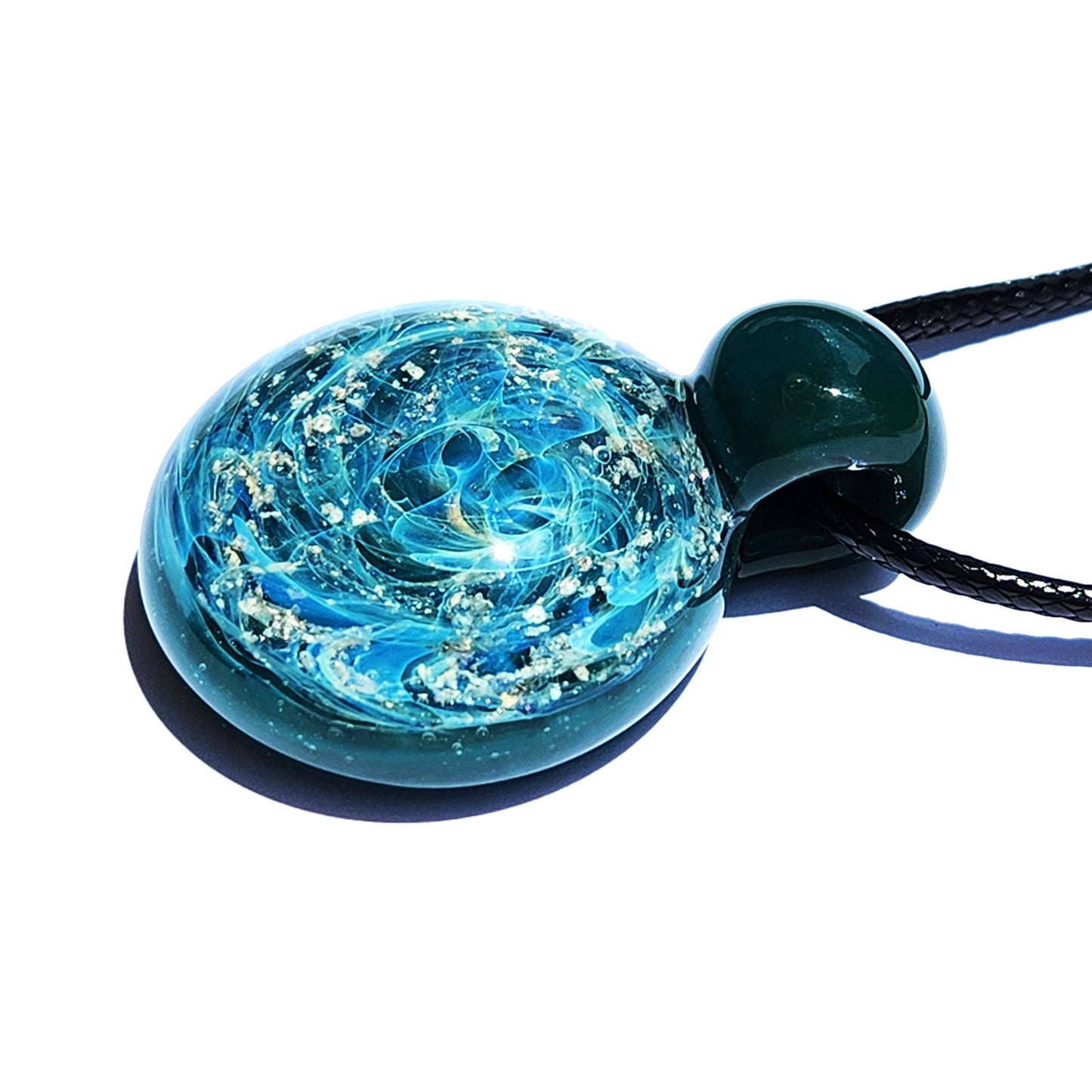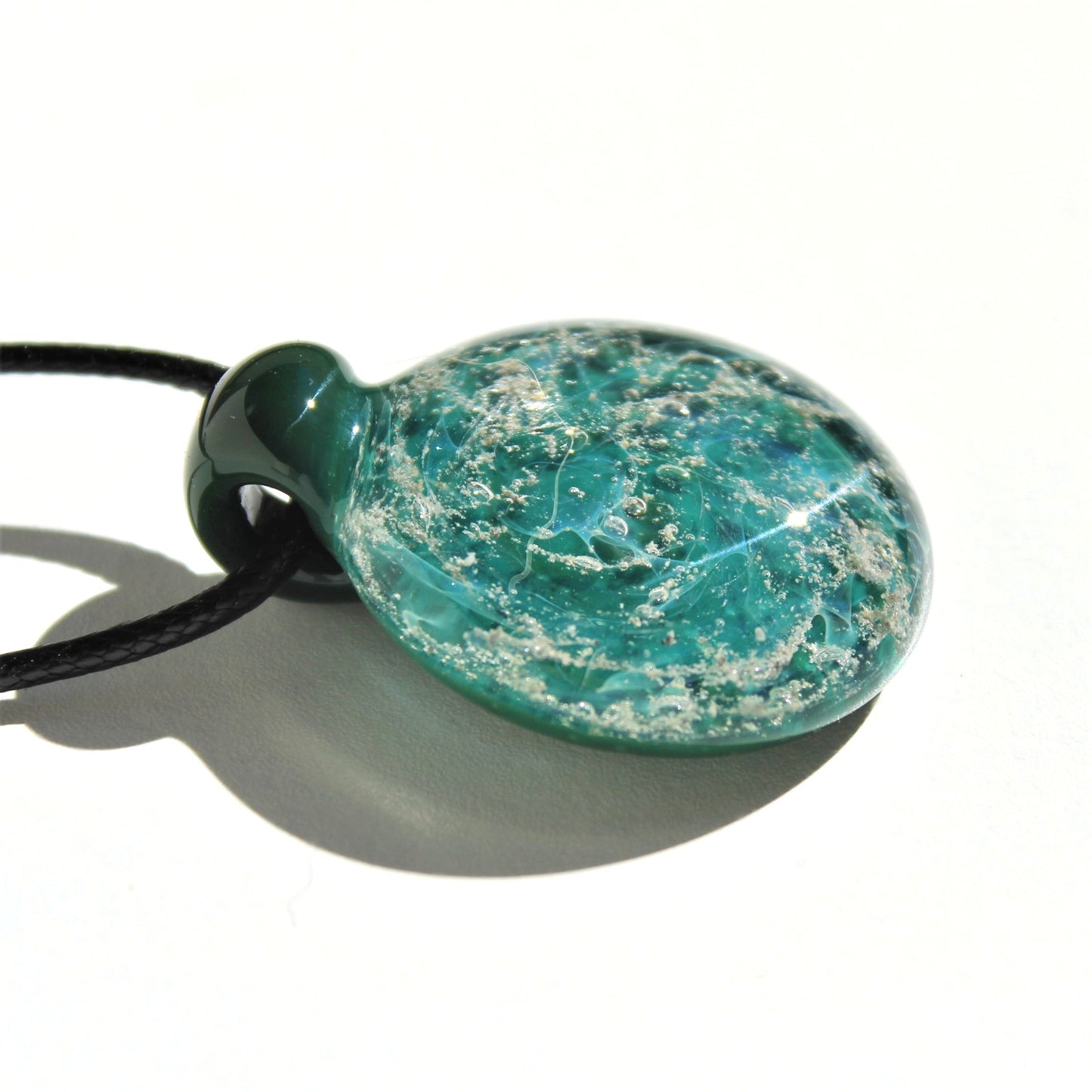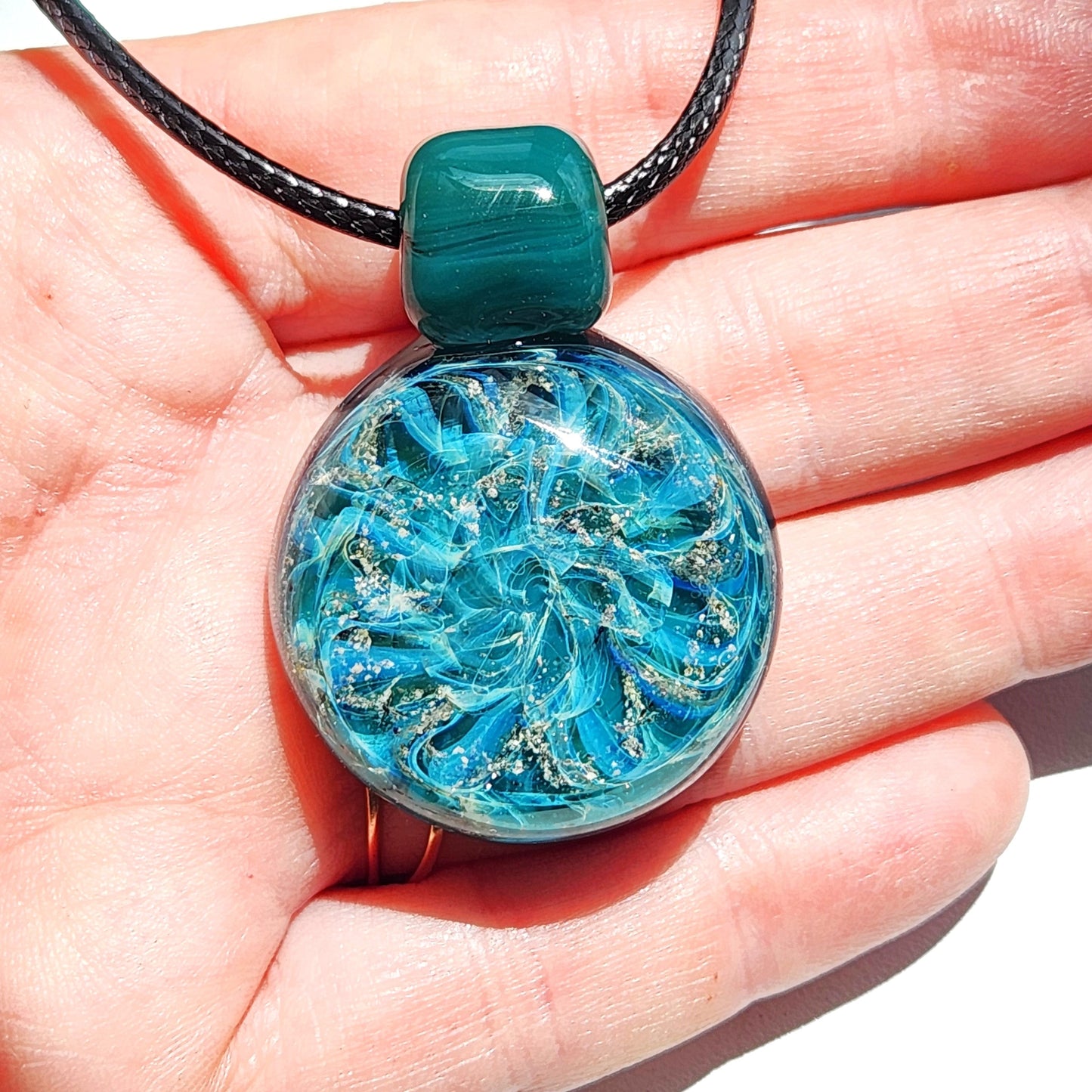 Heartwarming
Anna is a talented artist who respectfully made beautiful pendants with my grandson's ashes.
Our hearts were warmed with joy when they arrived. They are so incredibly perfect for us to keep him close while we wait to be reunited with him in Heaven! Thank you Anna! You were so caring and detailed from the point of ordering to receiving.
Supreme Artwork done with pure Love!
This Galaxy Pendant is beyond stunning and the most beautiful way to remember our beloved daughter who passed away way too young. Anna has treated me as if I were her only customer. She has been so loving, compassionate and kind in all of our interactions. The pendant was beautifully gift wrapped and everything done with attention to detail and care. I have rarely ever been so pleased with an online order. Thank you, Anna, for your gift or ART and HEART! Love, Michaela
Memorial Pendant! STUNNING WORK!
Dragonfire Glass was amazing to work with. Very professional, considerate, and compassionate. Wonderful and timely communication. They were even willing to modify the shape of the pendant we were looking at to make it a customized piece. My mom loved the pendant with her partner's ashes in it - its exactly what she wanted it to be. Would recommend to anyone looking for a memorial pendant!
Memorial Keepsake piece
Anna did a really wonderful and beautiful job on my cremation keepsake piece. Plus she is a really wonderful and kind person to work with. If you ever want a cremation piece done… i highly recommend her. 🌟🌟🌟🌟🌟
Beautiful commemoration of my very first furry family member
This is a perfect commemoration of my very first kitty. Thank you for all your hard work! Love the color and great customer service.